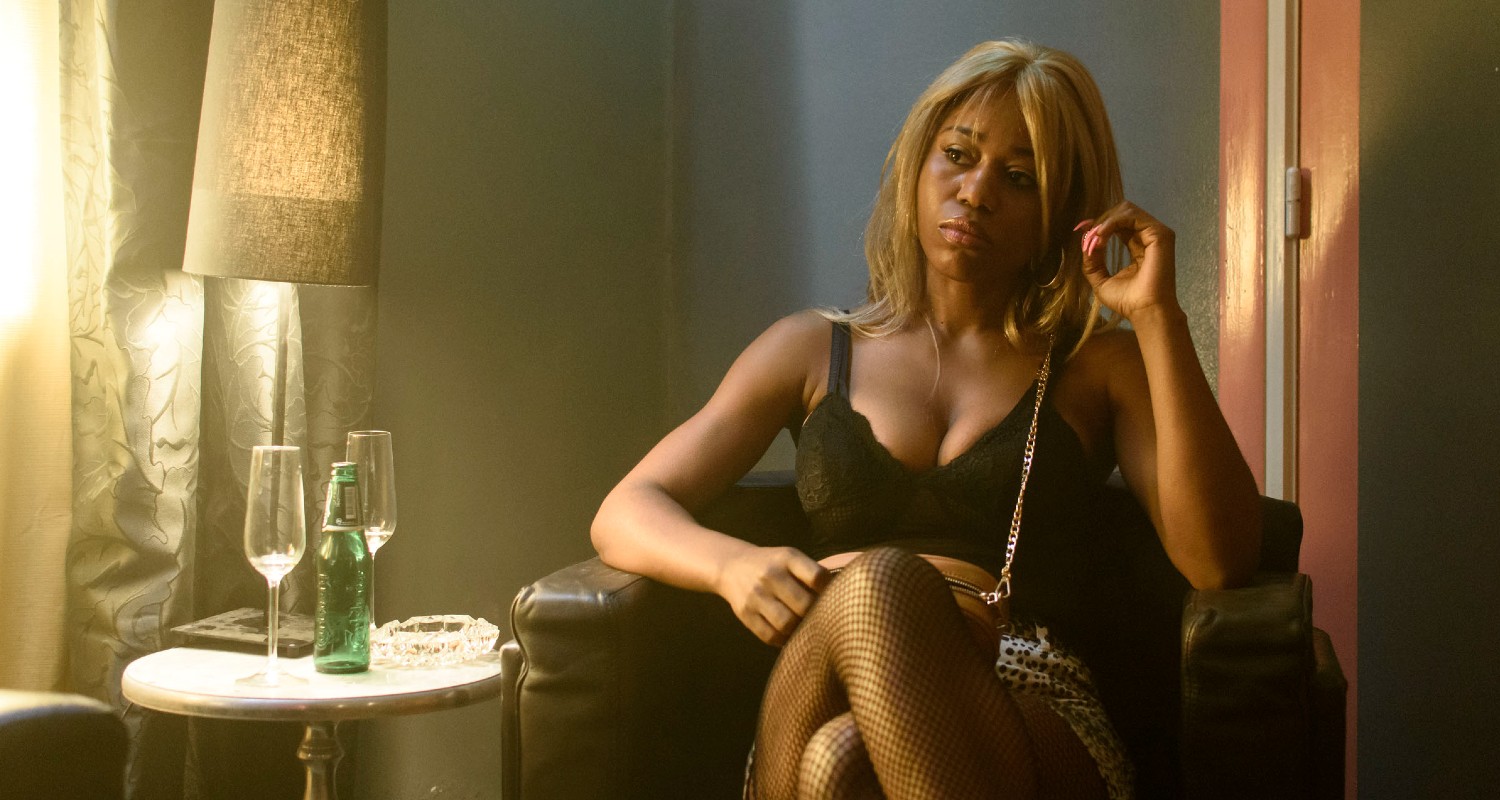 10 songs for Charity
Overtuigend muzikaal sprookje
Summary
Raw musical story about women trafficking. With great Nigerian actress Ijeoma Grace Agu, Dutch singer Shirma Rouse, rapper La Baby, Belgian actor Jeroen Perceval, musician Ronald Snijders.
Reviews
Musical '10 Songs for Charity' is a convincing 'musical fairy tale' about the bitter reality of trafficking in women and illegal prostitution
NRC Dana Linssen october 2021
For filmmaker Karin Junger it is natural to tell social stories through music and dance, usually in close collaboration with her protagonists. She did so in the documentary Sexy Money (2014) in which two ex-sex workers open a garage in Nigeria to train fellow sufferers to become car mechanics. In the 'musical fairy tale' 10 Songs for Charity she now tells the story of the sisters Charity and Happy who go to Brussels from Lagos and apply for asylum, but it has long been clear that they have been recruited to immediately disappear into prostitution there. They arrive with a 'debt' of 60.000 euros. If they work a little longer for 20 euros per customer, they will be there, according to the madam who provides them with condoms and sexy clothes, in a year from now. Happy in particular feels cheated: she wants to go to school and sees a completely different future ahead of her. The fact that the film is told as a musical has an empowering effect without losing sight of the precarious situation of the women. The 'hyper-reality' of the song and dance numbers passes silently into the unbearable reality of (illegal) prostitution. 10 Songs for Charity is part of the long and rich tradition of the protest song.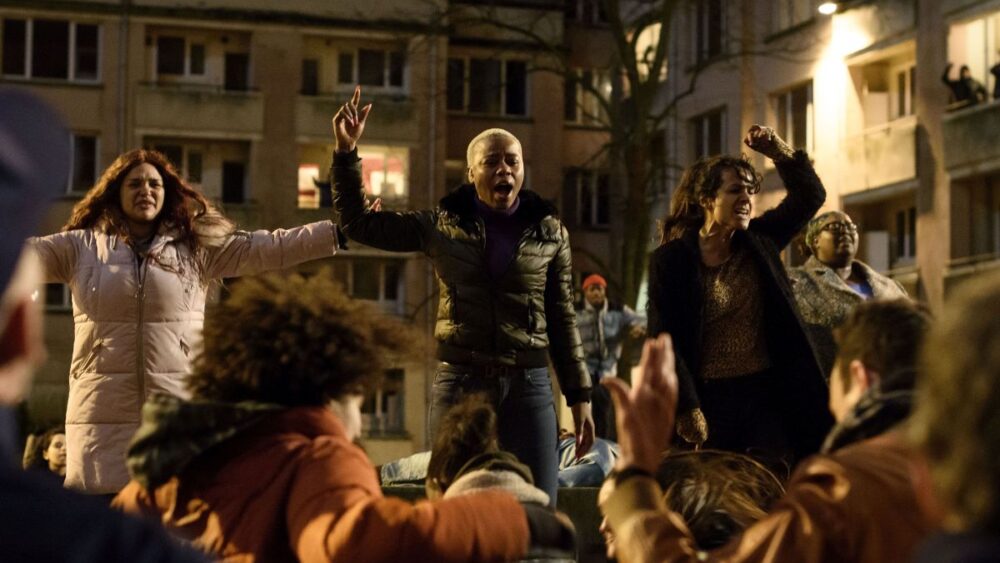 Een musical in tien nummers over twee Nigeriaanse vrouwen die in Brussel in de illegale prostitutie belanden. De onderlinge saamhorigheid vergroot hun weerbaarheid
Voordat ze naar het vliegveld van Lagos wordt gebracht door een mensenhandelaar, moet Charity hem nog even afzuigen. "Zo maak ik je Europeaan", verklaart hij. Charity – een verzonnen naam die op haar valse paspoort staat vermeld – is niet de onschuld zelve. Ze neemt haar jongere zus Happy mee naar Brussel, maar zegt pas als ze daar zijn aangekomen dat ze hun geld moeten verdienen in de illegale prostitutie. Charity heeft daar geen probleem mee, ze wil er zo snel mogelijk rijk mee worden, maar haar zus wel. Die blijkt zelfs nog nooit met een man naar bed te zijn geweest. Hun schuld aan de mensensmokkelaars is zestigduizend euro. Per klant verdienen ze twintig euro, legt de vrouw uit die het illegale bordeel runt. Als ze een beetje doorwerken, zijn ze over een jaar klaar met afbetalen. Dat wil zeggen: drieduizend klanten verder. Charity weet zich vervolgens op te werken tot assistent van de bordeelhoudster maar Happy verzet zich steeds heftiger. Tot de situatie uit de hand loopt.
Om de sfeer van de film wat lichter te maken, wordt een deel van het verhaal verteld in tien liedjes, die door de actrices zelf worden gezongen. Je zou ze kunnen zien als moderne variant op de liederen die in het verleden door slachtoffers van slavernij werden gezongen om de ellende iets te verzachten. Net als zij zitten Charity en Happy gevangen in een uitzichtloze situatie, net als zij worden ze uitgebuit, net als zij worden ze mishandeld, al is het geweld niet zo extreem als onder de slavernij. Aan mannen trouwens geen gebrek: hele volksstammen vinden het duidelijk prima om van uitgebuite vrouwen te profiteren.
Karin Junger maakte een min of meer een fictionele variant op haar documentaire Sexy Money uit 2014. Die ging over twee vrouwen die in Europa in de prostitutie hadden gewerkt en besloten terug te keren naar Nigeria. Ook daarin speelde muziek als troost en empowerment een sleutelrol. In 10 Songs for Charity blijkt dat muziek ook voor vrouwen die hier nog wel vast zitten een krachtige, positieve rol kan spelen.
Aan die rol zit een hele geschiedenis vast want muziek en verzet tegen onderdrukking gaan ver terug. Denk maar aan Bob Marley en de politieke onrust op Jamaica in de jaren zeventig. De Baskische band Negu Gorriak met hun combinatie van punk, ska en reggae. De cellist Vedran Smailović die in 1992 in de ruïne van de Nationale Bibliotheek een concert gaf terwijl Sarajevo werd gebombardeerd. In 10 Songs for Charity zijn het niet alleen de klanken die de vrouwen kracht geven, de dansperformance is op zichzelf ook al een daad van verzet, omdat die ruimte inneemt in een wereld die hen geen ruimte wil geven. Elke stap brengt hen iets dichter naar bevrijding.
Supported by
Dutch Film Fund
VAF
Eurimanges
Screen Flandres
Credits
Directed by: Karin Junger
Written by: Karin Junger, Brigit Hillenius, Ijeoma Grace Agu
Production company: De Productie (NL)
Coproducers: Minds Meet (BE), House5 Productions (Nigeria)
Line Producer: Koen Fransen
Cinematographer/DoP: Danny Elsen
Sound: Jac Vleeshouwers
Set Designer: Philippe Bertin
Editor: Patrick Minks
Sound Editor/Mix: Mark Glynne & Tom Bijnen
Music Supervisor: Justin Hendrik
Composers: Morien van der Tang , Takura Tendayi, Faried Jhauw, Jheynner Argote, Ricardo Burgrust, Josh Edmondson, Charity Daw, Niels Nieuborg, Jasper Cremers, Nneka Egbuna, Eddy 'Drummakid' Addai, Tienus Konijnenburg
Main cast
Ijeoma Grace Agu
Omoteniola Famodimu
Morganna Love Aleizah
Shirma Rouse
La Baby Jacqueline Morales
Jeroen Perceval
Sam Louwyck
Sales
M-Appeal.com
Prinzessinnenstr. 16
10969 Berlin, Germany
T: +49 30 61 50 75 05 / +49 30 615 072 52
Festivals
International première: Giffoni Film Festival 2021, Dutch première : Nederlands Film Festival 2021, AFRIFF 2021 (African International Film Festival) in Lagos Nigeria, African Film Festival New York 2022, Film by Women in Madrid 2022
Awards
Best main actress Ijeoma Grace Agu AFRIFF 2022
Nomination
Best feature AFRIFF 2022, Gryphon Award for Generator +18